Job opportunity with aemi
Published date: 14 Aug 2023
Projects and Engagement Manager, aemi
aemi is currently looking to hire for the key role of Projects and Engagement Manager to provide support across aemi's activities in dialogue with aemi's co-directors Alice Butler and Daniel Fitzpatrick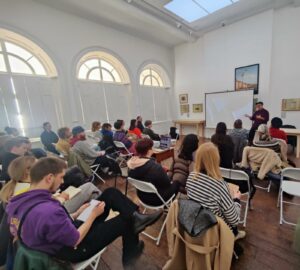 Working Hours: 2.5 days (20 hours) per week.
Salary: €41,600 p/a pro rata, approximately €1600 per month
Contract: part time fixed contract, starting in October 2023
Holidays: approximately 7.5 days total plus TOIL for additional hours worked
Start date: October 2023
Location: Staff can work flexibly from home but must be based in or within easy access to Dublin for semi-regular in-person meetings and aemi events. Travel to Dublin for these commitments is at employees' own cost.
How to apply: Please submit the following documents as PDFs titled in the format 'Full Name_Document' by the application deadline in an email to [email protected] with 'Job Application' in the email subject line
A motivation letter telling us about what makes this job opportunity with aemi exciting for you at this time. Please limit your response to 500 words
A CV that demonstrates how you fit the person specification (maximum 2 pages of A4)
Details of two referees, who will be contacted should a job offer be made
For more information contact [email protected] 
Application deadline: 5pm, Friday September 1st 2023
Interviews: Monday September 18th 2023
Please read the information below in full before making your application
ABOUT AEMI
aemi is a small but active Dublin based arts organisation working in the area of artist film. Across its practices as both a programming and resource organisation aemi supports the growth and development of artist film in Ireland. In operation since 2016 aemi now occupies a unique position as both a key driver and destination for artist film practices in Ireland. Crucial to aemi's central position in this regard are its ongoing collaborations with a variety of partners as well as its direct and ongoing engagement with practitioners working in the field of artist film. aemi is primarily funded by the Arts Council.  
The majority of aemi's activities are project based and artist focused. Most typically aemi will have a number of different activities running concurrently. The successful candidate for the advertised position will help oversee activity across aemi's programme, managing their various logistical components in conversation with aemi's Directors Alice Butler and Daniel Fitzpatrick. Candidates would where possible have relevant experience in arts administration roles, project management/oversight, administration/financial reporting, digital communications and writing funding applications. 
aemi is committed to adhering to equality, diversity, and inclusion standards as set out by the Arts Council
https://www.artscouncil.ie/Equality-Diversity-Inclusion/
PURPOSE/OVERVIEW OF THE ROLE
The post holder will provide key administrative support across aemi's activities in dialogue with aemi's Directors Alice Butler and Daniel Fitzpatrick, each of whom are responsible for discrete aspects of aemi's ongoing activity. The role incorporates a high degree of responsibility including the monitoring and oversight of budgets across aemi's busy programme, contributing to the preparation of reports and funding applications, handling of communications materials including audience/social media engagement, as well as  monitoring, evaluating and reporting on digital communications. 
The successful applicant will also contribute to the improvement of standards of accessibility across aemi's online platforms, communications, and events
ROLES AND RESPONSIBILITIES
— Budget management
— Funding applications
— Contract preparations
— Project management
— Communications, publicity and audience development following all accessibility requirements, writing image descriptions etc
— Liaising with partner organisations/artists
— Together with the management team, devising and coordinating an effective digital communications strategy including but not limited to the aemi website, Mailchimp, Facebook,Twitter, Instagram, LinkedIn, YouTube.
— Managing website updates: liaise with website developers; create listings and webpages; make changes to basic layout and functionality where required; work with aemi directors to improve individual pages/sections.
— Manage aemi's Mailchimp activity including preparing, editing and sending newsletters to subscriber lists.
REQUIRED/DESIRED SKILLS
— Excellent organisational skills
— Knowledge of the digital arts and creative media sector.
— Knowledge of audience development and programme evaluation techniques.
— Project and budget management, invoice processing.
— Facilitation, ability to listen, and guide ideas drawing on the talents of others, towards a defined goal.
— Excellent team working skills.
— Competent in using ICT.
— Excellent communication and interpersonal skills – both written and verbal with the ability to create effective, clear and interesting external communications campaigns
— Excellent administrative and time management skills, with an ability to pay close attention to detail, prioritise tasks to meet deadlines while maintaining accuracy
— Advanced IT skills and some previous experience working with web content management systems and developing web content for cultural organisations and / or related areas
For more information on the role or enquiries contact [email protected]