Newsletter – July 2021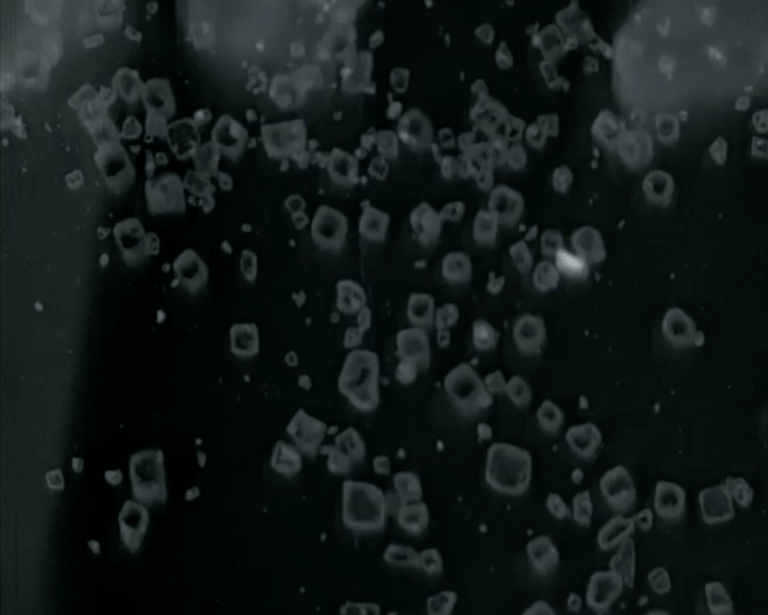 Hello there,
Hope everyone is keeping well and enjoying the summer so far.
There are two aemi screenings available to watch online for free at the moment during these long sunny evenings; a solo presentation of Niamh O'Malley's Glasshouse showing on 'aemi online' until the end of August accompanied by a commissioned text by Chris Fite-Wassilak, as well as 'To be consumed in totality' curated with artist filmmaker Kevin Gaffney for PhotoIreland Festival 2021. A recent online talk with Kevin Gaffney and Julia Gelezova from PhotoIreland is now available to watch here, and the programme, which looks at the politics of food, consumption and connection, can be viewed on our website until 31 July.
Alongside these online programmes we're excited to be working on some upcoming in-real-life events taking place around the country next month. aemi's touring programme 'Signals & Circuits' will screen at The Model's new space dedicated to the exhibition of artist and experimental film from August 12th. On August 14th we will present a once-off outdoor screening programme curated with and featuring a new film work by artist Aoife Desmond as part of the larger TEST SITE project in Cork City, and on August 29th aemi will present a screening as part of Docs Ireland at the Queen's Film Theatre in Belfast.
So save the dates – full programme details to be announced soon, and hopefully we'll see lots of you there!
With many thanks and best wishes,
Alice Butler, Daniel Fitzpatrick & Emer Lynch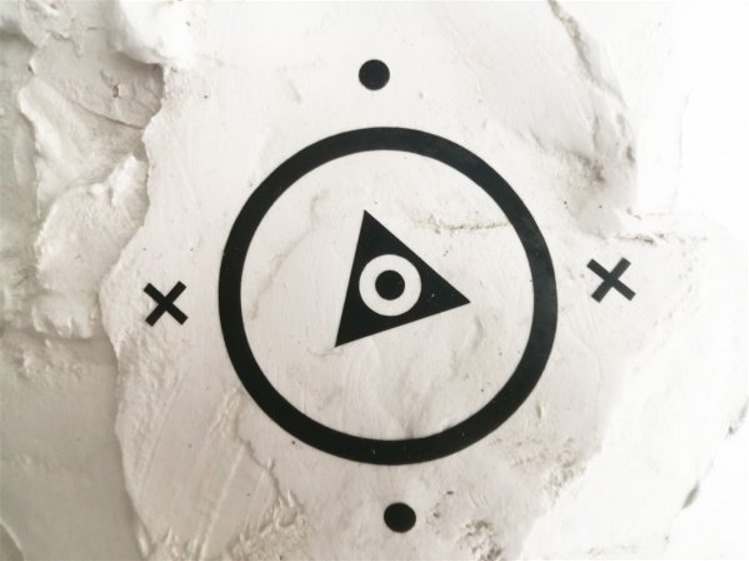 IN-REAL-LIFE RECOMMENDATIONS
NCAD Gallery, Dublin – berte & harmey (Filip Berte and Cliona Harmey) are resident in the NCAD Gallery space in June & July for the research & development of the Dublin version of their Nul Punt Wolk mapping project, until Monday, 26 July
Douglas Hyde Gallery, Dublin – Yuri Pattison, 'the engine', Gallery 1; 'The Artist's Eye: Steve Bishop', Gallery 2, until 31 July. Online event: Yuri Pattison in conversation with Georgina Jackson, July 29 at 6:30 pm
PhotoIreland Festival, Dublin and online – 'Bite the hand that feeds you' group exhibition in Rathfarnham Castle, central to the overall festival, presenting work by Alan Phelan, Dániel Szalai, Gê Viana, Hans van der Meer, Hertta Kiiski, Ksenia Yurkova, and Sheng-Wen Lo, until 2 August
The MAC, Belfast – Jaap Pieters 'The Eye of Amsterdam', until 8 August
The Model, Sligo – aemi Touring Programme 'Signals & Circuits', Irish and international contemporary moving image works exploring interconnected ideas relating to communication, travel and technology, featuring Jenny Brady, Jussi Eerola, Laura Fitzgerald, John Smith, Deborah Stratman and Yoga For The Eyes, 12 August – 10 October
Castletown House, Co. Kildare – Marie Phelan, Interventions, film and site specific botanical installation in collaboration with Audrey Walshe, presented as part of Heritage Week Friday 13 – Sunday 15 August
Project Arts Centre, Dublin – 'All Our Relations / Ár gCaidreamh Uilig', a group exhibition with new commissions from Jenny Brady and Moad Musbahi, works by Maryam Tafakory and Naeem Mohaiemen and a public programme with Amal Khalaf, Anna Bunting-Branch and Aliyah Hussain, until 21 August
EVA International, Limerick and online – Phase 2, Guest Programme 'Little did they know' curated by Merve Elveren, until 22 August
Ulster Museum NMNI, Belfast – Willie Doherty, 'Where', overview exhibition, until 12 September
Rua Red, Dublin – Amanda Coogan, They Come Then, The Birds as part of 'The Magdalene Series', until 18 September
The LAB, Dublin – Ann Maria Healy, 'Hypnagogia', until 30 September
ONLINE VIEWING
The Roberts Institute of Art – Rehana Zaman, Tell me the story Of all these things (2017) with commissioned text by Prem Sahib, until 21 July
Douglas Hyde Gallery, Gary Zhexi Zhang, Parasite (物流), 2018, co-curated with Yuri Pattison, until 22 July
Galway Film Fleadh – Patrick Hough, The Black River of Herself (2021) as part of 'Irish Talent: New Shorts Three: Fiction', 22 – 25 July
LUX Scotland – 'Give Birth To Me Tomorrow Part 4', moving image by Christian Noelle Charles and Rashaad Newsome screening until 24 July, co-programmed by artists and writers Tako Taal and Adam Benmakhlouf with discussion event taking place Thursday 22 July 7:30pm
Another Gaze/ Another Screen – 'The Practice of Disobedience', a two-part retrospective of videos by Carole Roussopoulos & Delphine Seyrig, with writings by Cassandra Troyan, Antoine Idier, Ros Murray, Lesbien Raisonnable & newly translated interview
Ecstatic Static – Currently presenting 'Screening No. 3: W,O,R,D,S'  featuring films by Erica Sheu, Anna Thew, Abigail Child, Yann Beauvais, Rhea Storr, John Smith, Jenny Brady, Eva Giolo, until 26 July
Kilkenny Arts Office – Ruth Clinton and Niamh Moriarty, Flicker, 2016, presented as part of 'Shiftings', Kilkenny Arts Office Emerging Curator in Residence programme with Aoife Banks
IFI International – currently available to rent from the IFI's recently launched global streaming service include Dean Kavanagh, Animal Kingdom (2018); Cecily Brennan, The Devil's Pool (2014); Rouzbeh Rashidi, Phantom Islands (2018); Dónal Foreman, The Image You Missed (2018); Oonagh Kearney, Teach Ionadh / Wonder House (2011)
EVENTS & READING
arebyte Skills – 'Interaction 101' with Danielle Brathwaite-Shirley, Danielle will take participants through examples of the mediums and design methods that have been used to make her interactive work, from internet-based tools to physical devices like dance pads and motion capture, free online event in partnership with Serpentine, Saturday 24 July, 10am – 1pm
Visual Artists Ireland – Artist talk with new media artist Elaine Hoey, webinar, 3 August 3pm
Hugh Lane Gallery – 'Artists' Takeover: Alice Butler', aemi Co-Director Alice Butler looks specifically at moving-image art and film, sharing research on 'the archive', philosophies around art-making, some current favourite moving-image artists, as well as highlighting considerations when watching or showing films/moving-image
ARTIST OPPORTUNITIES, OPEN CALLS, FILM FESTIVAL SUBMISSION DEADLINES
Artist Residency, 'Wings 21', Roscommon Arts Centre – Deadline: 21 July
Cork International Film Festival – Late Deadline (4 categories): 30 July, Irish Shorts Late Deadline (4 categories): 6 August
Achill Island Film Festival – Regular Deadline: 31 July, Late Deadline: 31 October, Extended Deadline: 31 December
Leeds International Film Festival – Regular Deadline: 31 July, Late Deadline: 31 August
Ji.hlava International Documentary Film Festival – Deadline for rough cuts and films that have so far not had a festival world premiere: 31 July
Culture Ireland, also accepting applications to support presentation by Irish artists online provided the artist has an international presenting partner – Upcoming deadlines: 1 August, 1 October, 1 December
35th Stuttgarter Filmwinter – Festival for Expanded Media, Germany – Deadline: 1 August
Kerry International Film Festival – Regular Deadline: 1 August, Extended Deadline: 23 August, Features Extended Deadline: 12 September
BFI Future Film Festival – Deadline: 6 August
London Short Film Festival – Late Deadline: 9 August
Alternative Film/Video Festival 2021, Belgrade – Deadline: 10 August
Media City Film Festival, Ontaria, Canada and Michigan, USA – Deadline: 16 August (no entry fees)
PÖFF – Pimedate Ööde Filmifestival/ Black Nights Film Festival – Extended Deadline: 17 August, Final submission: 24 August
Arts Council of Ireland Film Project Award – Deadline: 19 August
Dublin International Film Festival – Regular Deadline: 20 August, Late Deadline: 17 September, Extended Deadline (4 categories): 15 October
Open Call, Cork County Council Housing Public Art Panel 2021 – 2024 – Deadline: 22 August
International Film Festival Rotterdam – Films (up to 60 min.) completed before 1 July: 25 August, Films (up to 60 min.) completed after 1 July: 22 September, VR/Immersive works: 22 September, Feature films: 6 October
NTAA'22 International Art Exhibition for New Technologies, Zebrastraat, Ghent – Deadline: 31 August
Open Call, Dublin City Public Art Programme 2021 – 2026 – Deadline: 2 September
Japan Media Arts Festival – Deadline: 3 September
Open Call research residency, on-the-fly, Creative Europe – Deadline: 5 September
Glasgow Short Film Festival – Regular Deadline: 5 October, Late Deadline: 9 November
Open Call, Visual Arts Project Fund, Goethe Institut – Deadline: 15 October
Environmental Film Festival DCEFF – Regular Submission: 1 December, Late Submission: 3 January 2022
T A P E Collective, Good Wickedry online screenings and blog – rolling deadline
Journal of Embodied Research, video articles of between 10 and 20 minutes that document and share the results of research projects in which embodied practice is an essential part of the methodology – rolling deadline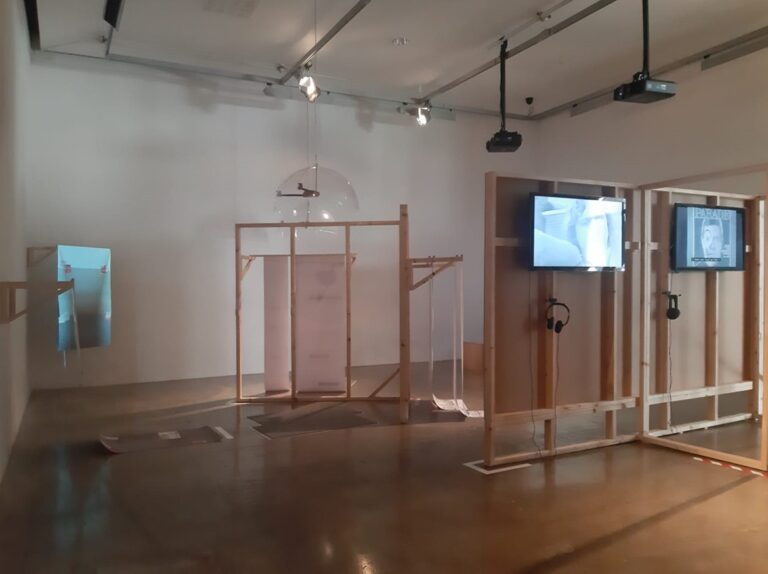 IN FOCUS
Project Arts Centre, Dublin, All Our Relations / Ár gCaidreamh Uilig
We highly recommend this group show curated by Project's newly appointed Sara Greavu which explores dialogue, miscommunication, connection through technology and a craving for touch as we navigate shifting covid restrictions and falter between social distance measures and reopening plans. The exhibition presents new commissions from Jenny Brady and Moad Musbahi, works by Maryam Tafakory and Naeem Mohaiemen, and an upcoming public programme with Amal Khalaf, Anna Bunting-Branch and Aliyah Hussain. The display structures designed and built for the show are based on the ad hoc Covid screens that have defined public space in recent months.
'All Our Relations / Ár gCaidreamh Uilig' is open until 21 August, booking required