aemi Newsletter May 2023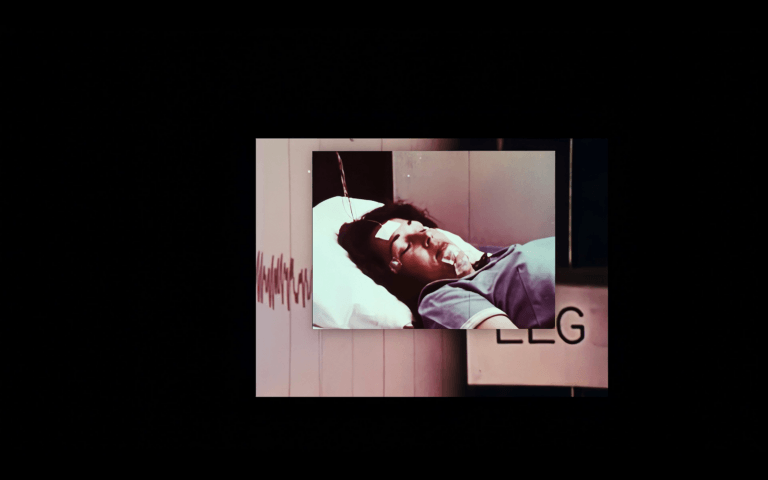 Hi all,
We wanted to start this newsletter with an update on 'Súitú', our current touring programme featuring work by Fábio Andrade (Brazil), Susan Hughes (Northern Ireland), Morgan Quaintance (U.K.), Bárbara Lago (Argentina), Sofia Theodore-Pierce (U.S.A.), Lisa Freeman (Ireland) and Holly Márie Parnell (Ireland).
The first stop on our tour of 'Súitú' will be on June 29th in Dublin at the Irish Film Institute, with featured artists Lisa Freeman and Holly Márie Parnell both in attendance for a post-screening Q&A. Tickets for that special event are now available here. We will have more Irish dates later this summer, including a screening at Black Hole Studio, presented by David J. Pierce, with support from Roscommon County Council. These Irish screenings will be followed by several international dates in the Netherlands and Sweden this autumn, with support from Culture Ireland. This tour of artist film by Irish and international practitioners is a central part of our public programme, and we would like to express sincere thanks to our Irish co-presenters, our international touring partners WORM, Filmhuis Cavia, Galleri Format, FILMFORM, and, of course, to all of our featured artists. You can stay up to date on touring programme announcements here.
We are also thrilled to announce our upcoming 2023 partnership with Docs Ireland, which includes, among other things, Jenny Brady's most recent Arts Council funded film Music for Solo Performer. More info below.
aemi & Docs Ireland present: Voice Recognition
Each year, aemi presents a programme of moving image work by artists and experimental filmmakers at Docs Ireland, aiming to call attention to the diverse ways artists and experimental filmmakers are continuing to deftly expand, enrich, and challenge the conventions of the documentary form. In this programme of remarkable new work from artists Jenny Brady (Ireland), Miryam Charles (Haiti-Canada), Dan Guthrie (U.K.), Jacqueline Holt (U.K.-Northern Ireland) and Sofia Theodore-Pierce (U.S.A.), ideas around voice and lineage are explored through connections to the body or instances of disembodiment. While experiences of disempowerment permeate the works gathered here, they are enacted as loving dedications or expressions of gratitude for those who have made or shaped us. The event will take place at Queen's Film Theatre on Sunday, June 25th at 2:00 pm. Following the screening, there will be a Q&A with featured artists Jenny Brady and Jacqueline Holt. You can find more information and book tickets here.
There are also lots of other recommended events and opportunities for artists listed below for you to check out.
We hope you are enjoying this bright start to the summer.
With best wishes,
Daniel Fitzpatrick, Alice Butler, and Áine Stapleton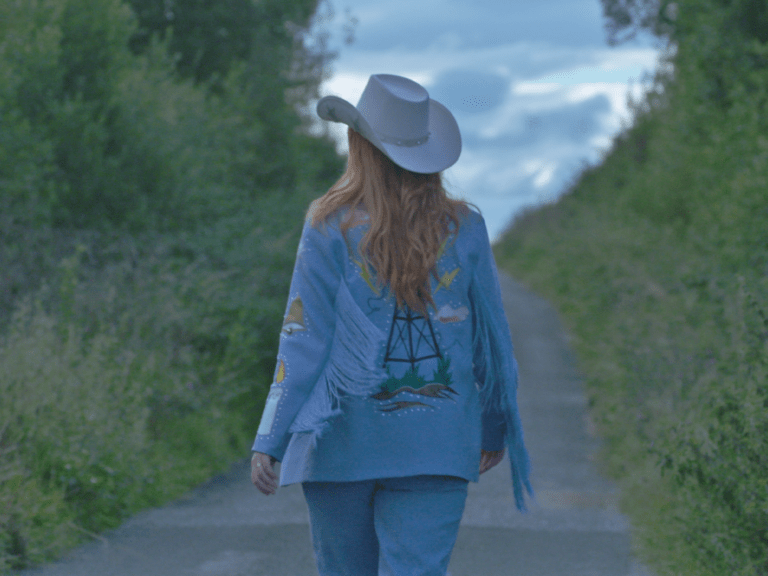 Selected recommendations 
The Flesh of Language by Amanda Rice – screening from May 27th to June 24th at SIRIUS, Cork. The Flesh of Language (2023) by Rice is informed by three research strands: Konstantin Raudive's investigation of anomalous voice-like sounds found on tape recordings that were interpreted as spirit messages; an experiment by Andrew Kitchener aimed at determining whether the extinct Irish elk used its antlers in battle; and inputs on the practicalities of media conservation. The film establishes a parallel between interspecies and paranormal communication, engaging with the barrier separating science and esotericism in addressing the life spans and resurrection of subjects and technologies.
2 Channel Land by Frank Sweeney – screening as part of Docs Ireland's 'Shorts Competition Programme 2' on Saturday, June 24th, at 3:15pm, followed by a Q&A. 2 Channel Land (2022) is a north-western docu-fiction film by artist Frank Sweeney, commissioned by aemi & SIRIUS. Exploring the history of analogue signals spilling across the borders of Ireland and Britain and guided by a mysterious threshold deity, we take a journey through the Irish borderlands in search of community. The research for this film included several new oral history interviews relating to illegal deflector systems (built to hijack UK television signals), country music pirate radio stations on the Irish border and the use of church bells as early forms of communication. Archival and research materials were presented in a radio installation by Frank Sweeney and Tom O'Dea at the Centre for Contemporary Art Derry in July 2022. The film emerged from this research through collaborations with artists from the Irish border region and included the commissioning of 3 original country music tracks. Book your tickets here.
Fanvid Presents: DIY Films from TURKEY AND SYRIA – Unit 44 (Kirkos), Prussia St, Dublin 7 – The next Fanvid event will take place on Tuesday, May 30th at 7pm. Artist and academic Temmuz Süreyya Gürbüz has collected ten electrifying DIY/low-budget screen works made by artists from the Turkey and Syria region including Çağıl Saydam & Hazal Bayar, Sarah Zeryab and various TikTok users via TikTok's Labor Cinema, a collection of videos curated by Ozan Çağlar ve Deniz Zeybek. One of the films featured, Alter the Caption, by Palestinian artist and filmmaker Sarah Zeryab, plays across different publics: from a crowded metro station to a social media feed. For this event, Fanvid are collecting donations for three earthquake relief organisations working across Turkey, Kurdistan, and Syria: Ahbap, Hey Vasor and Molham Volunteering Team. Donations can be sent via PayPal here or cash donations can be made at the event. For more information follow Fanvid on Instagram here.
In other updates, Tara Carroll, the Recruitment Officer of 'Praxis: The Artists' Union of Ireland', will host an online event titled 'PRAXIS: Why Do Artists Need A Union?'. This event, aimed at artists curious about the union, will take place via Zoom on Tuesday, June 6th, from 7pm to 8pm. Live captioning and Audio Description will also be provided for the duration of the event. You can learn more about the event and register via Eventbrite here.
Selected upcoming opportunities for film artists 
Upcoming open calls and artist opportunities include The Arts Council Reel Art Award, The Arts Council Authored Works Award, Arts and Disability Connect awards scheme 2023, Online Course LOVE ME THROUGH THE SCREEN: Contemporary Moving Image Practices by Sophie Lee, and The Michael O'Pray Prize for new writing on innovation and experimentation in the moving image, open to UK-based Irish artists and artists from Northern Ireland.
Upcoming film festival submission deadlines include IMAGE+NATION FESTIVAL COURTS QUEER SHORT FILM FEST in Canada and BIDEODROMO Internacional Experimental Film and Video Festival in the Basque Country.
Check out more national & international open calls, film festivals and opportunities here.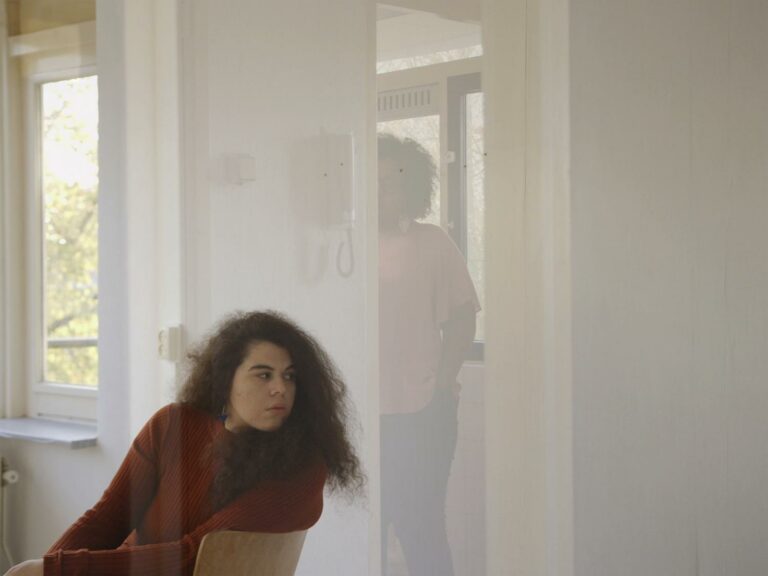 InFocus: Two Stones by Wendelien Van Oldenborgh
This month's InFocus showcases Two Stones, a film by Dutch visual artist and filmmaker Wendelien van Oldenborgh. The film is set in Kharkiv, Ukraine, and looks at housing practices – from the constructivist and utopian to the racialised and discriminatory – through the stories of two women. The screening event is part of the public programme for the current exhibition at Project Arts Centre, GOT DAMP / PÚSCADH ANUAS, by Avril Corroon, which runs until June 10th. Two Stones will be screened at The Cube at Project Arts Centre on Wednesday, May 31st at 6pm. The running time is 61 minutes, and the screening is captioned. Tickets are €3. For more information and to book tickets, please visit here.