aemi is delighted to present 'Profit & Loss' 4Ever Chemical (2014-2021) by Sibyl Montague, following on from Sibyl's 'Profit and Loss' series of videos presented by aemi last year.
A new one-day installation at Project Arts Centre, 'Profit & Loss' 4Ever Chemical (2014-2021) uses image and melody to weave mass material sourced from online drifts. Made as a multi-part work, it has three core rhythms that can 'shuffle' randomly like tracks.  The works are cut ups; a method to reap and remediate content, harvesting from early learning, pharmaceutical, corporate and cosmetic visual and audio. Started in 2014 and completed in 2021, 4Ever Chemical will be screened alongside other works including a new textile Blanket – Those Who Wander, made during the pandemic 2020.
4Ever Chemical  is the fifth moving image work from 'Profit & Loss' (2013-2021) a series of video collages working with found image and sound. Parts 01-04 were screened for the first time with aemi in 2020 as part of our 'aemi online' screening programme. The programme was accompanied by an interview with artist and critic Morgan Quaintance in October 2020, this text can be read here
Film info
4EverChemical – Breath (12 min)
4EverChemical – Bird (2 min)
4EverChemical – Moth (06.30 min)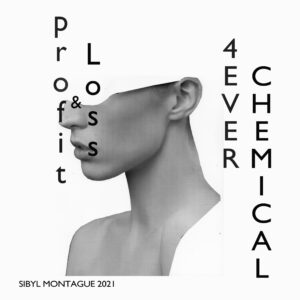 Biography
Montague's varied practice explores trans-disciplinary and hybrid forms of care through the handheld. Her work uses a wide range of vegetable, digital, textile and 'poor' material sources, disassembled commodity goods which are subjected to an intimate process of hacking, binding and remediating.
Montague was artist in residence at VISUAL, Carlow in 2020 and recipient of the IMMA 1000 residency at the Irish Museum of Modern Art, Dublin in 2019. Recent exhibitions include 'SELF SOOTHERS', VISUAL, Carlow (2020); 'Profit & Loss (1-4)', AEMI online (2020); 'The Law is a White Dog', curated by Sarah Browne, TULCA Festival of Visual Art (2020);  'Saplings', Pallas Projects, Dublin, and 'My Fears of Tomorrow are Melting Away', Cité Internationale des Arts, Paris (both 2018). Montague was co- founder and co-curator of PLASTIK international festival of artists' moving image in Dublin (2015-2017). Her practice includes sculpture, video, drawing and installation.