Newsletter – February 2022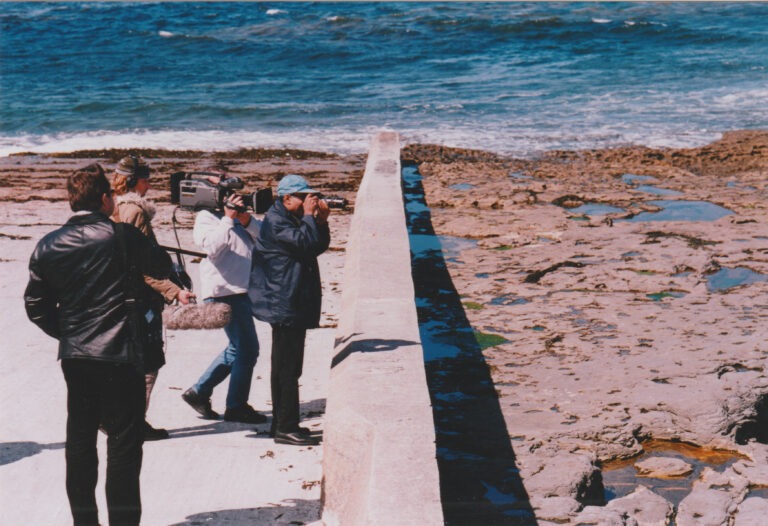 Hi there,
Today aemi is delighted to launch The Mirror of Possible Worlds on aemi online. As Fergus Daly's most recent work, the film marks his deep engagement with the artistry and working methodologies of Iranian film director Abbas Kiarostami, 1940 – 2016. The work is a visual compound of on-screen text and archival material of Kiarostami journeying to the Aran islands in 2001.The Mirror of Possible Worlds pursues an expanded portrait of Kiarostami, a pursuit mirrored in cinema theoretician Nicole Brenez's accompanying essay. Throughout her career, Brenez has argued for and created new possibilities for avant-garde cinema, and as she has recently been heavily involved in the citizen occupation and programming of La Clef, the last independent cinema in Paris, we are extremely grateful to have this opportunity to publish this commissioned essay by her on Fergus Daly's The Mirror of Possible Worlds. This new online screening is free and available worldwide here.
Just around the corner, Dublin International Film Festival kicks off next week and is back in-person this year. We are very much looking forward to experiencing a host of premieres of artist films in the cinema, many of which are features supported by The Arts Council's Authored Works and Reel Art awards. Meanwhile, our InFocus spotlight for this month is the Media City Film Festival. The excellent programme (running virtually) is reflective of this 25th edition of the festival. It's is free to attend and most of the works in the three programmes are available to view globally. We can't recommend it highly enough – the films can be viewed until 1st March, see below for more info and recommendations.
Very best wishes,
Daniel Fitzpatrick, Alice Butler, and Emer Lynch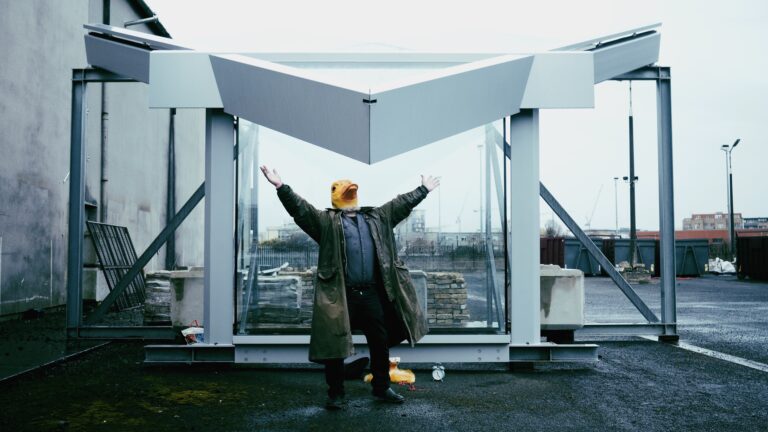 Selected recommendations (screenings and events)
Dublin International Film Festival – a wealth of artist film premieres are programmed within this year's festival including Dónal Foreman's new feature The Cry of Granuaile, funded by The Arts Council Authored Works Award; three Arts Council Reel Art Award feature films: Anna Rodgers and Shaun Dunn's How To Tell A Secret, Alan Gilsenan's Ghosts of Baggatonia and Luke McManus's North Circular; and as part of Community Film Screening, a triple bill of films made in Dublin 8, the premiere of Bodies by Bernie O'Reilly and Maud Hendricks, supported by the Arts Council and Dublin City Arts Office. The festival runs in-person in Dublin from 23 February – 6 March
Mermaid Arts Centre, Wicklow – an in-person screening of selected films by Cléa van der Grijn: Reconstructing Memory (2016), Jump (2018/2019) and Flux (2021), followed by Q&A with the artist, 8pm Wednesday 9th March
Southampton Institute for Arts and Humanities – 'Post-Industrial Metabolism and the Discorrelated Moving Image' is an online seminar by artist filmmaker Beny Wagner offering an analysis of the CRISPR/Muybridge experiment to encode a moving image into the DNA of living bacteria, 5pm Wednesday 23 February
Selected upcoming deadlines and opportunities for film artists
A-Place: Open Call for Video Productions in Six European Cities, an open call to commission a video production to investigate the process of creating a sense of place in one of the six cities participating in the project: Barcelona, Bologna, Brussels, Lisbon, Ljubljana and Nicosia, deadline 28 February
Prismatic Ground, the second year of New York's film festival centered on experimental documentary and directed by Inney Prakash, submission deadline 1 March
The Arts Council's Film Project Award is due 24 March
The regularly updated list of open calls and film festival submission dates for film artists is available here
InFocus
Media City Film Festival online programmes available until 1 March
Since 1994 this international film festival has taken place at venues across the US-Canadian border, in Windsor, Ontario, Detroit and Michigan, and in addition to the screening programme, hosts residencies, fellowships and commissions. This year is the 25th anniversary edition and, with most of the works available online globally, there are so many to draw your attention to.
Many of the films, such as Daïchi Saïto's earthearthearth (2021) and Mary Helena Clark's Figure Minus Fact (2020), were lauded at recent international film festivals such as IFFR and Viennale. A year ago we screened Sky Hopinka's work as part of our 'Year in Review' on-demand programmes, his new 2022 film Kicking the Clouds is online now at Media City and we can't wait to check it out. If you missed Rhea Storr's Here is the Imagination of the Black Radical (2020) through our recent programmes, or indeed Peter Tscherkassky's Train Again (2021) at CIFF last November, this is an excellent opportunity to catch these works again. Films by Tracey Moffatt, Kevin Jerome Everson, Carolee Schneemann, Sergei Parajanov, Ana Vaz, Morgan Quaintance and Joseph Bernard are all very much worth revisiting or seeing for the first time, and a couple of films we have thoroughly enjoyed being introduced to through this festival include Sally Lawton's Gravidity Part 1 (2020), seeing her (2020) by Lindsay McIntyre, ගිම්හානයේ නෙත්‍ර/ The Eyes of Summer (2020) by Rajee Samarasinghe, and the short films of Ximena Cuevas – one of Media City's Spotlight Artists.
All of these artist films, and more, are free to access until 1st March.