Newsletter – June 2020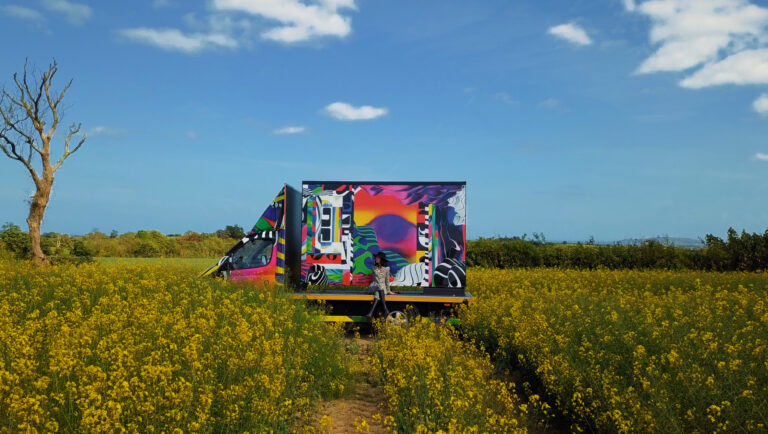 Hello,
We hope everyone is keeping well and enjoying recently warmer days.
Of late we've been enjoying observing how artists and public art bodies are adapting to the times. Ireland's extended summer evenings have been taken advantage of by artist and art lecturer Aideen Barry, who – via a projection installation in a field in Tipperary – recently used the inky-blue twilight of May as a backdrop for showcasing moving image student work from Limerick School of Art and Design, Edinburgh College of Art and Virginia Commonwealth University. The presentation took place over two evenings via IGTV, and now also exists on the Field Test websites.
An interesting aspect to this admirable endeavour (of a projection in a field that we watch live on our phones at midnight) is that we, as viewers, are increasingly accepting of the multiplying layers through which we will view moving image. It's all becoming a bit of a 'mise-en-abyme', a virtual hall of mirrors. MattFlix also comes to mind here – a fortnightly series of online projects at mattsgallery.org. The video trilogy, Variations on a Ballistic Theme, by Paul Eachus & Nooshin Farhid, features installed monitors playing videos of videos, and remains available to view via Vimeo. The extra online layer added to the original installation can be seen to be an advantageous addition that adds further dimensions and virtual expanses to what was already a critical engagement with overlapping multiples.
From next Monday, Ireland will transition to phase 2 of the government roadmap that eases Covid-19 restrictions. Artist Aoife Dunne has wasted no time in jumping upon the opportunity that the extended travel distance of 20km will offer and is applying this greater mobility to Transcending Time, a public art commission by Fingal County Council. If you live in the Fingal area of North Dublin, head to transcendingtime.ie to make a booking to experience this work from your doorstep between 8 – 10 June (see image above).
Online spaces and artists' creative ways of filling these spaces, coupled with a myriad of digital technologies (virtual, and physical as in the case of artist Aoife Dunne's Transcending Time) have interrupted the original path that cinema established for itself. These are diversions down interesting paths that surely we can observe as accelerated within the current climate. Form follows function.
Over the next month, if you are working on a project and wish to avail of an advisory session as part of our aemi affiliate artist support, you're more than welcome to contact us at info@aemi.ie. We will also be rolling out the first of our Rough Cut sessions in June, a series of events that will provide film artists with the opportunity to present works-in-progress to a guest curator, programmer, academic or critic in a supportive peer environment. If you are interested in any of the above you can find out more info on our Artist Support page.
Follow us on Twitter and Instagram (especially Insta stories) where we are highlighting national & international resources for viewing moving image, and sharing links to works & programmes we have recently enjoyed watching.
Very best midsummer wishes,
Alice Butler, Daniel Fitzpatrick & Emer Lynch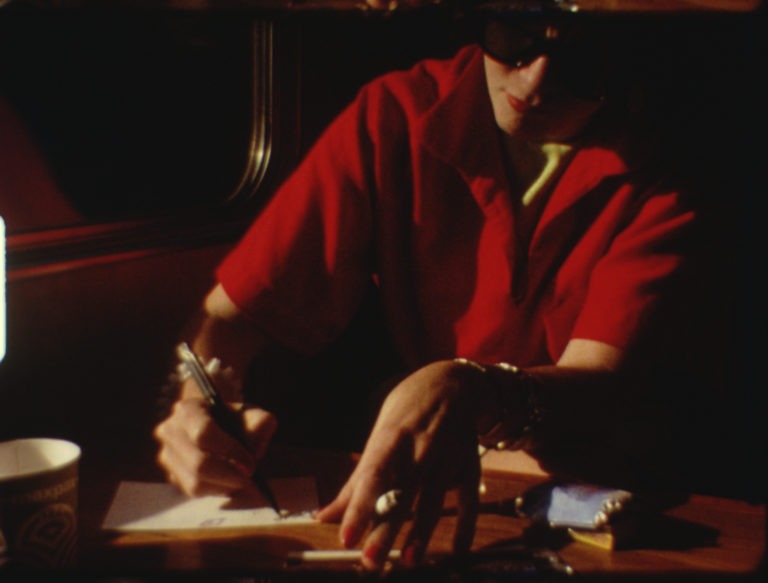 VIEWING RESOURCES
IMMA – IMMA Screen: an online platform promoting access to films and video works from the IMMA Collection. New screenings will be available, presenting works by Irish and international artists alongside a recent interview and related material from the IMMA Archive. Currently presented online is Alanna O'Kelly, Sanctuary/Wastelands (1994) with films by artists Helen Cammock, Phil Collins, Vivienne Dick, Kevin Gaffney and Isabel Nolan to follow, monthly until 10 November
IFI Player – Volume 2 of Sé Merry Doyle's Loopline films and documentaries is currently available to view, the collection includes the four-part series Hidden Treasures, directed by Anne O'Leary and narrated by poet and writer Theo Dorgan, combining restored 16mm field recordings (produced by the National Museum of Ireland 1950s – 1970s) with contemporary recordings of rural crafts and rituals offering rare glimpses of long-forgotten creative traditions
MINK – Moving Image Network Kerry is an an online + offline space that expands collaborative art practice. Incorporating Moving Magazine, it exalts in the strangeness of the new, applauds the experimental in moving image and the fictional/non-fictional in writing and thought. Currently showcasing the work of Laura Fitzgerald, P45 (2017)
Isolation TV – Episode 2: A Most Sensitive Nucleus, curated by Vaari Claffey, featured artists: Kevin Atherton, Karl Burke, Çayan's Friends, Fiona Hallinan/Department of Ultimology, Nathalie Koger, Roy Claire Potter, Eva Rothschild, Patrick Staff, Stanislaw Welbel, Stina Wirfelt. Reflecting on ageing and vulnerability, Episode 2 includes works that demonstrate caring and protection, considering the 'old' as the valuable, (learned, wise, knowing, familiar) and the 'vulnerable' as precious (irreplaceable, requiring protection, delicate). For a limited time
Field Test Part I & Part II – artist and art lecturer Aideen Barry recently created an projection installation in a field to showcase moving image student work from Limerick School of Art and Design, Edinburgh College of Art and Virginia Commonwealth University
Fingal County Council Public Art – Aoife Dunne, Transcending Time (2020). If you live in the Fingal area of North Dublin, head to transcendingtime.ie to experience this work from your doorstep between 8 – 10 June
Dean Kavanagh – short and feature length films available via video on demand including Animal Kingdom (2017), Return of Suspicion (2014), History of Water (2012), Late Hours of the Night (2013), Polar Nights (2014), A Harbour Town (2013), Inappropriation: The Films of Johnny Kline (2015 – 2017) and Short Films: Volumes 1 – 3 (2009 – 2015)
Kerlin Gallery – Willie Doherty, ENDLESS (2020), presented by Kerlin Gallery, Dublin, Alexander and Bonin, New York and Galerie Peter Kilchmann, Zürich until 16 June
Dublin Port Company – Moira Sweeney, Keepers of the Port, until 5 June
The Modern Institute – Viewing Room online moving image works currently include Simon Starling Black Drop; Luke Fowler, All Divided Selves; Jeremy Deller & Nick Abrahams, Our Hobby Is Depeche Mode; Marco Giordano, To Disturb Somnolent Birds
Argos TV11 – Messaline Raverdy, Derrière les volets (2018), until 5 June; Argos Super 8 Project Rebecca Fruitman, De Kaaiendans / La Danse des Quais (2019), until 31 August programmes currently suspended until 5 June aligning with Blackout Tuesday
CCA Goldsmiths Channel – Ed Webb Ingall, We Have Rather Been Invaded (2017), until 7 June
Upstream Gallery – Echo, group online exhibition curated by Jan Robert Leegte, until 7 June
Video Data Bank – Future-Past-Present: A Journey Through the Twenty-Tens So Far, programme curated by Omar Kholeif
New Museum – Screens Series Online, including Heather Phillipson and Dynasty Handbag among others, weekly programmes
Frith Street Gallery – Woman as Protagonist: The Art of Nancy Spero, until 8 June, weekly programme
Le Cinéma Club – Sam Stillman, Let's Get Lost (2020), new film every week
Eflux – Wanuri Kahiu, Pumzi (2009), until 9 June, as part of Eflux Video & Film
Vdrome – Charwei Tsai's​ Lanyu, Three Stories​, introduced by Aephie Chen, until 9 June
Spike Island – Maeve Brennan, The Drift (2017) until 11 June; Adam Khalil and Bayley Sweitzer's 2018 feature film debut Empty Metal, 18 June; Patrick Staff, Weed Killer, 25 June – 2 July
Matt's Gallery – MattFlix: fortnightly series of online projects: Lindsay Seers with Keith Sargent S/He is still inside you until 6pm 12 June, Nathaniel Mellors 6pm 12 June – 5.59pm 26 June
Copperfield Gallery – Evan Ifekoya, She was a Full Body Speaker, until 15 June
Film and Video Umbrella – FVU Watch: Nadeem Din-Gabisi, MASS (2020) featuring a musical collaboration with Coby Sey, MASS carves out the intimate communal spaces and intangible signals that characterise the contemporary Black experience, until 18 June; Melanie Manchot, Celebration (Cyprus Street), 19 June – 18 July
BALTIC Centre for Contemporary Art – Imran Peretta, the destructors (2019), until 28 June
WET – Lotte Louise de Jong, Liminal Connection (2019), until 30 June
Carnegie Museum of Art – Rachel Rose, Lake Valley (2016), until 16 August
Scharaun – KINO SIEMENSSTADT weekly programmes over June featuring works by Anri Sala, Korpys/Loeffler, Amie Siegel, Dani Gal, Anja Kirschner & David Panos, overall programme until 28 August
LUX Moving Image – HERVISIONS, OUT of TOUCH, an evolving curatorial proposition of online commissions, events and performances reflecting on the idea of touch and its digital analogues in the post-touch world, until 30 June; Picturing a Pandemic Part 3: Richard Fung, Chinese Characters (1986)
La Cinémathèque Française – access to the archives including works by Otar Iosseliani, François Reichenbach, Jean Epstein, Jean-Claude Biette, Albatros and more
Galerie Thaddaeus Ropac – Life Captured Still, a selection of seminal video works by Harun Farocki and Hito Steyerl, until 31 December
Whitechapel Gallery – Artists' Film International: a collaborative project featuring film, video and animation from around the world. During 2020, works responding to the theme of language unfold across all 20 partner organisations
FESTIVAL VIEWING
CIRCUIT at Oberhausen Short FIlm Festival 2020 – programme of five works from CIRCUIT's Distributors Screening at the 2020 Oberhausen Short Film Festival, featuring the artists Zack Steiner-Fox, Ruth Watson, Seung Yul Oh, Clinton Watkins, popular productions, Janet Lilo (until 4 June)
videoclub – Both Sides Now 5: Queer @ Strangelove Festival, 15 – 21 June
DEMO Moving Image Festival – Contagion, 15 June – 24 July
Ann Arbor Film Festival – one of the first festivals to go online due to Covid, the 58th AAFF Live Stream took place 24 – 30 March and three jurors – Osbert Parker, Lisa Steele and Lynne Sachs – presented a selection of their work, now available to watch back online
Orphan Film Symposium – much of the material from The Orphan Film Symposium devoted to Water, Climate, and Migration (that took place online 26 – 29 May) is available to view on their Vimeo page
READING
MINK – P45: Things Can Only Get Better? A Story & Two Narratives: text by Jennifer Redmond on Laura Fitzgerald's film P45, with illustrations by Laura Fitzgerald
Art Monthly – June edition features Maeve Connolly's profile on Michael Hanna in addition to Clemens von Wedemeyer interviewed by Chris McCormack, Morgan Quaintance rethinking art online, Dan Ward on Artists' Moving Image in Britain Since 1989, Colin Perry on Video/Art: The First 50 Years, Deke Dusinberre on time in moving-image art, and more
Film and Video Umbrella – David Kwaw Mensah on Nadeem Din-Gabisi's MASS and Transcendental Cinema
Bookshop.org – Thomas Beard of Light Industries recently set up a Bookshop.org list of writings by filmmakers⁠ — Akerman to Vertov and much more. A portion of every sale made through the page helps support Light Industries's programme
OPEN SUBMISSIONS & OPPORTUNITIES
Aesthetica Art Prize – Summer Deadline: August, Late Entries: 6 September
Dublin International Film Festival – Earlybird Deadline: 12 June, Regular Deadline: 14 August, Late Deadline: 18 September
Slow Film Festival – East Sussex, Second Deadline: Third Deadline: 12 June, Final Deadline: 10 July
23rd Annual FirstGlance Philadelphia Film Fest – USA, Regular Deadline: Late Deadline: 23 June, Final Deadline: 13 July
Open Call Photophobia: Contemporary Moving Image Festival, Canada – Deadline 8 June
Visions in the Nunnery, UK – Deadline: 21 June
Edinburgh Short Film Festival – Deadline: 22 June
MAP artists residencies 2021 – Méduse, Québec – Deadline: 24 June
WNDX Festival of Moving Image, Canada – Deadline: 30 June
Villa Ruffieux – Residency Program, Valais, Switzerland – Deadline: 30 June
VIDEONALE.18: Festival for Video and Time-Based Media Arts, Bonn, Germany – Deadline: 30 June
Doclisboa'20 – International Film Festival, Lisbon, Portugal – Late Deadline: 30 June
Uppsala Short Film Festival, Sweden – Deadline: 30 June
Košice Artist in Residence – Media Art Residency, Slovakia – Deadline: 30 June
Kassel Documentary Film and Video Festival, Germany – Deadline: 1 July
PÖFF – Black Nights Film Festival, Tallinn – Deadline: 1 July 2020, Extended Deadline 17 August, Final Submission Deadline 24 August
L'Alternativa, 27th Barcelona Independent Film Festival – Regular Deadline: 1 July, Late Deadline: 10 July
Leeds International Film Festival, UK – Regular Deadline: 6 July, Late Deadline: 10 August
London Short Film Festival – Regular Deadline: 6 July, Late Deadline: 24 August
24th Internationale Kurzfilmtage Winterthur, Switzerland – Deadline: 12 July
European Culture of Solidarity Fund – Deadline: 14 July
Transient Visions: Festival of the Moving Image – Deadline: 15 July
Environmental Film Festival, Washington D.C. (including Virtual Reality category) – Deadline: July
Moving Image Review & Art Journal (MIRAJ), Call for Papers, Issue 9.2: Artists' Moving Image, Isolation and Covid – Deadline: 15 September
Underneath the Floorboards – Deadline: 20 September
Glasgow Short Film Festival – Regular Deadline: 6 October 2020, Late Deadline: 10 November
Open Call Pixelache Festival, Helsinki – Deadline: 31 January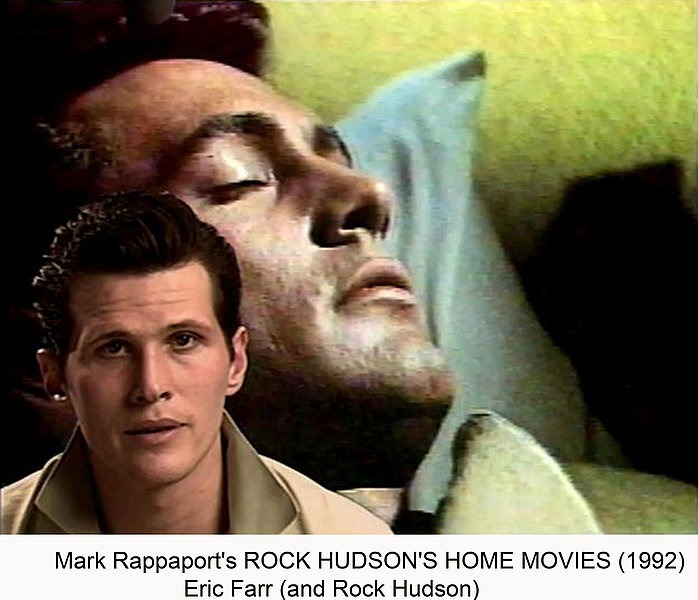 IN FOCUS:
Mark Rappaport online retrospective @ The Munich Film Museum
The Munich Film Museum has started a 7 week online retrospective of Mark Rappaport. Free streaming.
For those of us missing the experience of actual movie-going, as in being in an actual cinema surrounded by actual people, Munich Film Museum's online retrospective of the films of Mark Rappaport might fill some of that gap. Rappaport is a filmmaker and pioneering video essayist whose work has always been very much entranced with the very particular promise of the cinema screen. A good entry point to his work, and a very effective reminder of some of what we are currently missing, is his 2017 film The Empty Screen, (not yet part of the retrospective but available on YouTube). The Empty Screen is an effective but also relatively straightforward example of a format Rappaport helped innovate but the promise of this online retrospective is also in the opportunities to jump into Rappaport's early work. The retrospective is set to roll out gradually, of the current crop we would recommend Our Stars (2015), but it will feature key works like From The Journals Of Jean Seberg (available from 5 June). These early works made on video frequently channel the inner voice of dead movie stars and were sometimes categorised as 'fictional documentaries' (whatever that means), they were at the time highly innovative and still look quite unlike anything else. The majority of these films have been unavailable for quite some time, his archive caught in an ownership limbo involving the critic Ray Carney, so this is a great opportunity to revisit these important works.