Newsletter – March 2021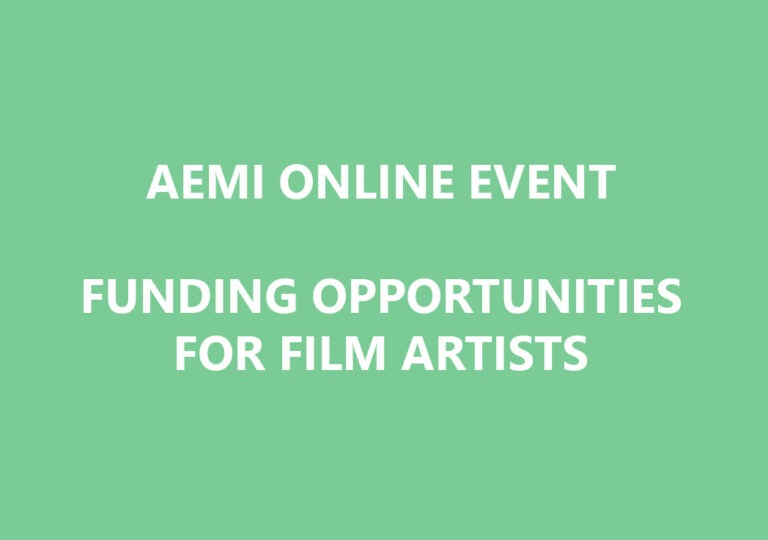 Hi there,
While we would typically take this opportunity to draw your attention to upcoming events, festivals and programmes, this month we wanted to take a bit of time to highlight our work as a resource organisation focused on supporting film artists.
On April 16th we will be hosting a day-long event on funding opportunities and approaches to funding for film artists. This is the most comprehensive funding information event we have done to date and it is an event that is free to attend and open to all. Over the course of the day through a series of distinct workshops we will hear from the Arts Council, outlining funding opportunities for film artists, as well as from artists themselves. We will look at various topics including application writing, funding for first-time applicants, and festival and exhibition strategies. We would hope that this online event will be useful to anyone considering applying for funding.
In addition to this it is also worth mentioning that aemi offers a number of other ongoing supports to artists. We regularly do one-on-one artist support sessions which are accessible remotely and are open to artists at various stages of practice. Through these sessions with artists we can look at anything from funding opportunities to exhibition strategies. In addition to these, our next Rough Cut session also takes place this week. Rough Cut offers artists the opportunity to receive feedback on works at various stages of completion. Generally we invite an industry professional, alongside a small group of peers, to respond to artists' work and offer guidance. This upcoming event will be led by Mark Williams Director of CIRCUIT, a New Zealand based artist film organisation similar to our own. If you are interested in these or any of our artist resources, feel free to get in touch at info@aemi.ie
We should also mention other organisations currently offering useful supports to artists, in particular Fire Station Artists Studios who now offer a number of practical skills-based training programmes, most of which are now available online. These include a training course for Da Vinci Resolve (useful and accessible editing and colour correction software). Generally we are always looking for ways to make sure artists working in film are receiving the best support possible, technical and otherwise, and if there are other gaps you would like to see filled get in touch and let us know.
The weather is improving, the outlook is improving, and we hope to start thinking about a horizon that includes in-person events in the not too distant future. In the meantime, check out our most recent curated programme, available through our On-Demand platform. We are really proud of this programme, which features some of the best international works we've encountered over the past couple of years. It's also a deeply energizing and motivating programme, featuring artists like Laure Prouvost, Rhea Storr, Sky Hopinka and Lynne Sachs and an episode of The Glennda and Brenda Show by Glenn Belverio. We can't wait to have an opportunity to discuss the programme with the filmmakers on April 8th and hope many of you will join us for that.
See below for other upcoming events and opportunities including our InFocus pick for April. As always, you can find us on Twitter and Instagram for regular updates.
Keep well and speak soon.
Alice Butler, Daniel Fitzpatrick & Emer Lynch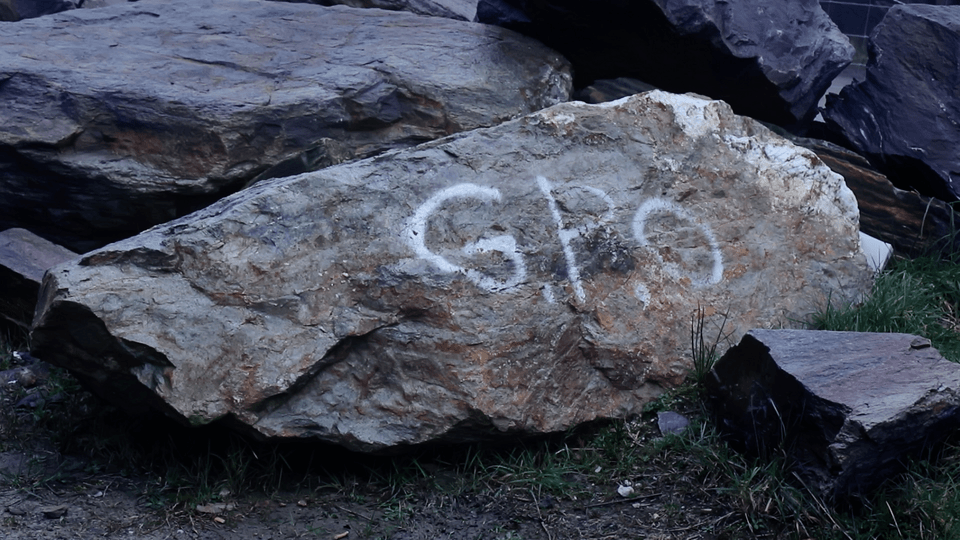 ONLINE RECOMMENDATIONS
aemi
'aemi online' in partnership with EVA International Curraghinalt by Emily McFarland (2019/ 2020) with introductory text by Matt Packer
'aemi-on-demand' 2020 A Year in Review (Programme 2) Onyeka Igwe, Lynne Sachs with and for Barbara Hammer, Sky Hopinka, Timothy Smith, Glenn Belverio, Rhea Storr, Laure Prouvost, until 18 April
Year in Review live Q&A Thursday 8 April with programme artists Lynne Sachs, Rhea Storr, Glenn Belverio and Timothy Smith, 8 April
'Signals & Circuits' Touring Programme at VISUAL, online screening followed by a Q&A with two of the artists hosted by VISUAL's CEO and Artistic Director, Emma Lucy O'Brien, 7 April
IFI@Home – Treasa O'Brien, Town of Strangers (2018), documentary exploring a Galway town transformed by immigration, until 6 April
Catalyst Arts – As the awardee of Catalyst Arts Graduate Award Show 2020, Retreat to Stone, Stone in Retreat, a new film work by artist Nollaig Molloy screens online until Thursday 15 April. As part of the award, an online Artist Talk with Nollaig Molloy takes place this Wednesday 31 March at 6.30pm – tickets are available on Eventbrite
CCA Derry-Londonderry – Urgenices, group online exhibition selected by artist Locky Morris and CCA Director Catherine Hemelryk, featuring moving image works by Bryony Dunne and Michael Hanna, exhibition runs until 22 May
Also check out CCA's public programme nothing (but windows) by Janie Doherty and Locky Morris, in the windows of the gallery until 24 April and on Instagram
Goethe-Institut Irland – short films from the Europe in Film series launching on twelve consecutive Fridays at 6pm (GMT), forthcoming: Katzenjammer / Feeding the Hungry, directed by Flavio Yuri Rigamonti, 2 April; The Battle for our Voices, directed by Jennifer Mallmannm, 9 April; Götterdämmerung / Twilight of the Gods, directed by David Uzochukwu, Faraz Shariat, 16 April
TULCA UnSelfing 2021 Programme – upcoming projects include A Visit, A Ceremony, A Gift, a new film commission curated by Kate Strain focusing on the research and practice of Austrian artist and philosopher Elisabeth Von Samsonow premiering 16 April with artists Elisabeth Von Samsonow, Marielle MacLeman, Ruth Le Gear, Ruby Wallis and Michaële Cutaya, Michelle Doyle, Liliane Puthod, Naïmé Perrette, Sara Sadik; Weather Gods by Isadora Epstein launching 17 April; TULCA: XVIII, a specially commissioned publication launching 18 April 2021
LUX Moving Image – New Artist Focus: Sarah Hayden on Jenny Brady, Caps on / Caps off: Receiving Jenny Brady's Receiver, essay published 30 March
WET Film – Savas Boyraz, Meanwhile (2013), an experimental film silently following a group of guerrillas in the mountains of Kurdistan for a day, screening accompanied by a conversation between the filmmaker Savaz Boyraz with WET member Erika Roux until 31 March, new film every month
Le Cinéma Club – Elena López Riera, Those Who Desire (Los Que Desean) (2018), a Spanish tradition of pigeon racing sparks a poetic meditation on masculinity, screening as part of Le Cinéma Club's Animal Festival, new film every week
Vdrome – Emilia Tapprest, Sonzai Zone (2019), with interview between the filmmaker and Felice Moramarco, until 31 March
Smithsonian – Viewfinder Virtual Screening Series: Margaret Salmon, On Motherhood and the Everyday, online screening event with advance registration required, 1 April
Essay Film Festival – all the films will be free and open to anyone in the UK, featuring films by Madeleine Hunt-Ehrlich, Cauleen Smith and Kevin Jerome Everson amongst others, events can be access worldwide including Session 10: Jenny Brady: 'A-Weighted Response' Friday 2 April at 7pm
e-flux Film and Video – Zheng Yuan, Dream Delivery (2018), as part of 'Crashing into the Future', a programme of films and interviews convened by Cao Fei, until 4 April
Film and Video Umbrella – Kyla Harris and Lou Macnamara, It's Personal (2021) and available to watch with audio description; Marianna Simnett, The Bird Game (2019) and Confessions of a Crow (2021)
MUBI – some film artists currently featured in aemi programmes Signals & Circuits and Year in Review 2 are also showing presented currently on MUBI: Lynne Sachs's Ways Of Seeing with Barbara Hammer with Deborah Stratman's Vever (for Barbara); also make sure to check out Morgan Quaintance's South (2020) as part of Brief Encounters: new international short films by filmmakers and artists
GLAS Animation Festival – the 6th edition of the GLAS Animation Festival, 5 – 11 April
Prismatic Ground – a new film festival centered on experimental documentary founded by Inney Prakash, in addition to other live engagements on 10 April the inaugural Ground Glass Award for outstanding contribution in the field of experimental media will be presented to Lynne Sachs who features in aemi's Year in Review programme
Alchemy Film and Moving Image Festival –  the eleventh edition of Alchemy Film and Moving Image Festival presents 171 works of experimental film, artists' moving image and animation across live screenings and on-demand programmes, streamed and delivered to the world from Hawick in the Scottish Borders, 29 April – 3 May
Transmissions TV – Season 3 recently launched, next episode streaming live 9pm GMT Wednesday 28 April, with replay on 10am GMT Friday 30 April
Children's Film Encyclopedia – Margaret Salmon, The Enemies of the Rose (2010) is featured on a new website introducing kids to artists' film. The project, riffing on the concept of the encyclopedia, presents periodic 'screenings' alongside educational content and simple activities
Silent Film Festival – 'Amazing Tales Online' Discovering Lost Films of Georges Méliès in fin-de-siècle Flip Books, online event 11 April
ARTIST OPPORTUNITIES, OPEN CALLS, FILM FESTIVAL SUBMISSION DEADLINES
LUMI & Reimagine Remake Replay: Curate A Virtual Film Festival – Workshop dates: 15 April – 6 May, open to 18 – 26 year olds based in Northern Ireland, limited availability
Female Filmmakers Ireland – online database of female identifying professionals working in the Irish film industry today
Still Voices Short Film Festival – Regular Deadline: 31 March, Late Deadline: 30 April, Extended Deadline: 31 May
International Film Festival Marseille – Deadline: 31 March
Zurich Film Festival – Earlybird Deadline: 31 March, Regular Deadline: 30 June
Ji.hlava International Documentary Film Festival – Deadline for films released in 2020: 31 March, Deadline for films completed in 2021 and released by May: 31 May, Deadline for  rough cuts and films that have so far not had a festival world premiere: 31 July 2021
VISUAL Carlow, ARTWORKS Open Call: Woman in the Machine – Deadline: 1 April
Culture Ireland, accepting applications to support presentation by Irish artists online provided the artist has an international presenting partner – Deadlines in 2021: 1 April, 1 June, 1 August, 1 October, 1 December
The One Minutes, open call – The Fields of Algorithms by Larry Achiampong and David Blandy Deadline: 1 April
Gaze International LGBTQ+ Film Festival – GAZE West  Shorts Deadline: 1 April, Regular Deadline: 1 June, Late Deadline: 22 June
Arts Council of Ireland: Agility Award – Deadline: 8 April
ARC-LAB Gallery Curatorial Scholarship 2021 – Deadline: 12 April
Arts Council of Ireland: Film Project Award – Deadline: 15 April
Experimental Film Fest – Tax Day Deadline: 15 April, Quince de Mayo Deadline: 15 May, Summer's Eve Deadline: 15 June, Drop Deadline: 15 July
i-portunus for cultural heritage travel award – Deadline: 15 April
Yamagata International Documentary Film Festival 2021, Japan – Deadline International Competition: 15 April, Deadline New Asian Currents: 15 May
Berwick Film & Media Arts Festival – Late Deadline: 16 April
Open City Documentary Festival – Regular Deadline: 23 April, Late Deadline: 10 May
DCC Incubation Space Award – Deadline: 30 April
Cork International Film Festival –  Regular Deadline: 21 May, Late Deadline (4 categories): 16 July, Irish Shorts Late Deadline (4 categories): 6 August
Aesthetica Film Festival – Regular Deadline: 31 May, Late Deadline: 7 June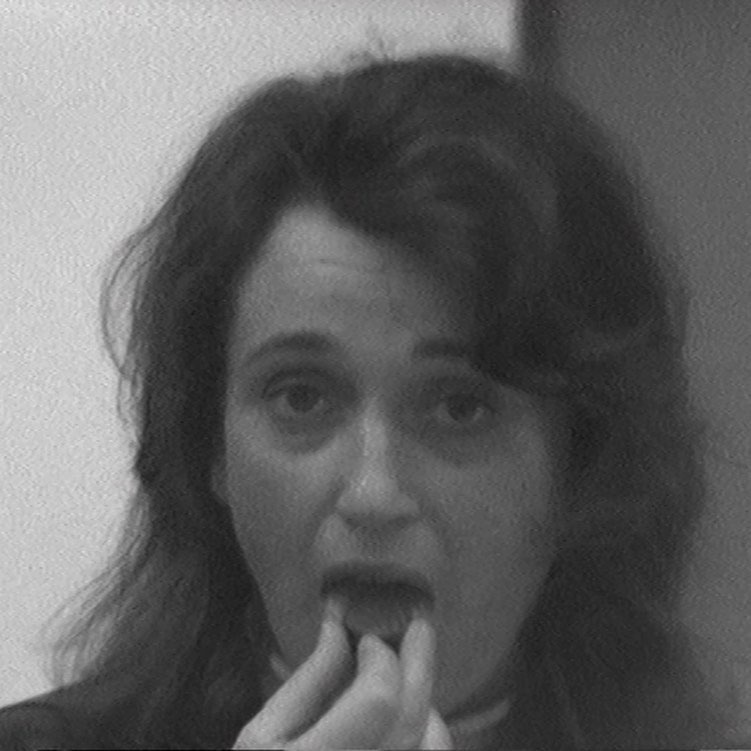 IN FOCUS
Another Gaze Journal: Another Screen presents 'Eating/The Other'
From Friday 2 April
Recently Another Gaze Journal announced the second part of their next 'Another Screen' programme: 'Eating/The Other'. Six films on eating, ritual and national mythologies, by filmmakers including Valie Export, Patty Chang, Gloria Camiruaga and Ateyyat El Abnoudy.
The programme takes its cue from the the roundtable that follows 'Hands Tied' & ends on a discussion about women & eating; desire vs compulsion. The filmmakers of 'Eating/The Other' use food to explore ritual, modernity, national mythologies & censorship.
The programme screens from Friday 2 April at another-screen.com with subtitles in French, Spanish, Portuguese, Indonesian, Italian, Japanese and Korean