As we reflect and look back on a strange and challenging year we (aemi) have selected this programme of international works. Many of the works included in this programme are films that we encountered at festivals (back when in person festivals were still a thing) others are works we encountered later in the year through various online screenings and events and through discussions with artists, programmers, etc. Generally these are works that helped us make sense of this strange year, they represent just a few of the highlights we encountered this year in terms of international work, with a second programme of work to follow. Some of the works included here (Far From The Far Future) were created in response to the changed circumstances we now find ourselves in while others (A Proposal to Project in Scope) have taken on a new potency and weight when we revisit them in the light of recent changes and transformations. There are also at play here a series of absences, absences that reveal themselves across the programme in a number of different ways. With this comes a poignant sense of loss but what we are also granted here are some very clear indications of a way forward and also what precisely it is that will be important to carry forward with us as we venture into an unwritten and unknown future.
A special thank you to Graeme Arnfield whose film is included here – a generous conversation with Graeme helped shape the choices that informed this programme.
This programme is available in the Republic of Ireland until 28 February on aemi-on-demand, €5 programme rental that stays live for 1 week
Works featured
Cura – Ben Thorp Brown (17 mins)
A Proposal to Project in Scope – Viktoria Schmid (8 mins)
Patrick – Luke Fowler (21 mins)
Signal 8 – Simon Liu (14 mins)
Far From The Far Future – Graeme Arnfield (11 mins)
A Demonstration – Sasha Litvintseva and Beny Wagner (25 mins)
Total running time: 96 mins
Price to rent: €5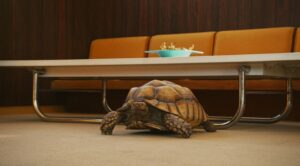 Ben Thorp Brown, Cura
Inspired by Roman mythology and modernist architecture, Cura imagines the reincarnation of a mythical goddess, who speaks and sings in the first person plural about the role empathy has to play in moments of great ecological and societal crisis. The film was shot in the Richard and Dion Neutra's VDL Research House II in Los Angeles and the narration (performed by Joan La Barbara) mixes the artist's writings, with mythology, and passages from Neutra's main philosophical treatise, Survival Through Design (1954)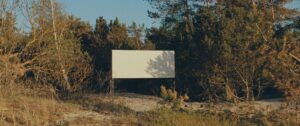 Viktoria Schmid, A Proposal to project in Scope
A Proposal to project in Scope, 35mm, 8 min, surround sound
The 35mm CinemaScope format is pre-eminently suited to landscapes. Viktoria Schmid puts the surroundings out of frame, turning the screen into a sculpture in the dunes. Widescreen emptiness becomes a projection surface for an interplay between light and shadow, sun and trees. (IFFR 2020)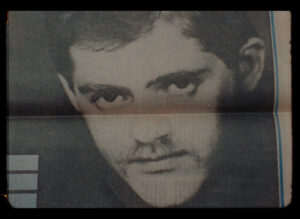 Luke Fowler, PATRICK
Luke Fowler's work has long asked how we come to know someone in their absence. He has explored this question by creating posthumous portraits of individuals through precise compositions of the things they have left behind: recorded images and sounds, papers and notes, artwork, the spaces through which they moved, and the testimonies of friends who remain among the living. Patrick evokes the life of its eponymous music producer [Patrick Cowley] by all these means, taking in the postindustrial charms of San Francisco's now-gentrified South of Market district, once famous for its dance clubs and leather bars, as if searching for Cowley's still-lingering energy.
Ed Halter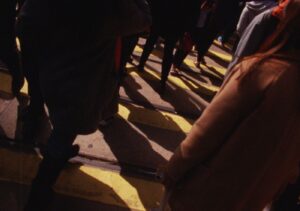 Simon Liu, Signal 8
They said a storm is calling this way but we're still waiting. Lives carry on in Hong Kong as traces of civic upkeep morph into sites of remembrance. Decorative structures mimic nature then occasionally malfunction – transforming common spectacle to warning signs. The light urges to tell us something but can't quite get its point across, patience tested for another day.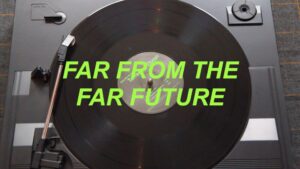 Graeme Arnfield, Far From The Far Future
A commissioned artist talk gets abandoned for an afternoon listening to an old techno record from the artists' youth. As the record spins thoughts turn to science fiction, the functionality of dance music and the struggle for the future.
Commissioned by: Antimatter [media art], Victoria, BC, Canada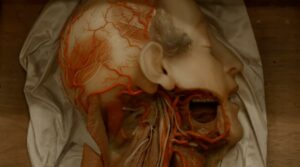 Sasha Litvintseva and Beny Wagner, A Demonstration
"A Demonstration" is a monster film with no monsters. Inspired by the existence of taxonomies of monsters at the heart of Early Modern European science, the film explores and reinterprets a way of seeing the natural world that is almost impossible to imagine from today's vantage point. Early Modern naturalists were guided by a logic in which scientific truths were discovered through visual analogy. The word 'monster' comes from the latin 'monstrare', meaning to show, to reveal, to demonstrate. A Demonstration picks up on these themes in a poetic exploration of the boundaries of sight and the metamorphosis of form.
This programme is followed by a second review programme available here until 18 April 2021, featuring films by Onyeka Igwe, Lynne Sachs with and for Barbara Hammer, Sky Hopinka, Timothy Smith, Glenn Belverio, Rhea Storr, and Laure Prouvost
More programmes available on aemi-on-demand