'Revenant Images' is a screening programme about the traces left behind by the production of historical cinema; ruins, phantoms, psychological imprints and political convulsions that continue to act on the world long after the screen falls into silence. What happens when these representations are unanchored from history, when they are left to drift? How do they transform our physical reality and our perception of history itself? The films in this programme take us on an epic journey through some of these traces, beginning with the flickering illusions of early cinema and its power to animate the inanimate. We then move through the malleable cinematic landscapes of California, the destruction of Pompeii as refracted through re-enactments of children and the labour riots and rebellions of Italy's historic Cinecittà Film Studios. Finally, we end with the archaeological remains of Cecil B. Demille's film set for The Ten Commandments, now haunted by a CGI phantom from cinema's future.
'Revenant Images' is an aemi programme curated by Irish film artist Patrick Hough around his film And If In A Thousand Years. The programme also features work by Anna Franceschini, John Skoog, Christin Turner and Clemens von Wedemeyer.
Works Featured:
Anna Franceschini, Doposole, 2013, Italy, 2 minutes
John Skoog, Shadowland, 2014, Sweden, 15 minutes
Christin Turner, Vesuvius at Home, 2018, U.S.A./Italy, 14 minutes
Clemens von Wedemeyer, The Cast: Procession, 2013, Germany, 15 minutes
Patrick Hough, And If In A Thousand Years, 2017, Ireland/U.K., 22 minutes
Total running time: 68mins
Price to rent: €5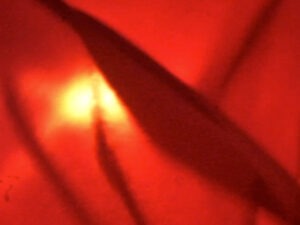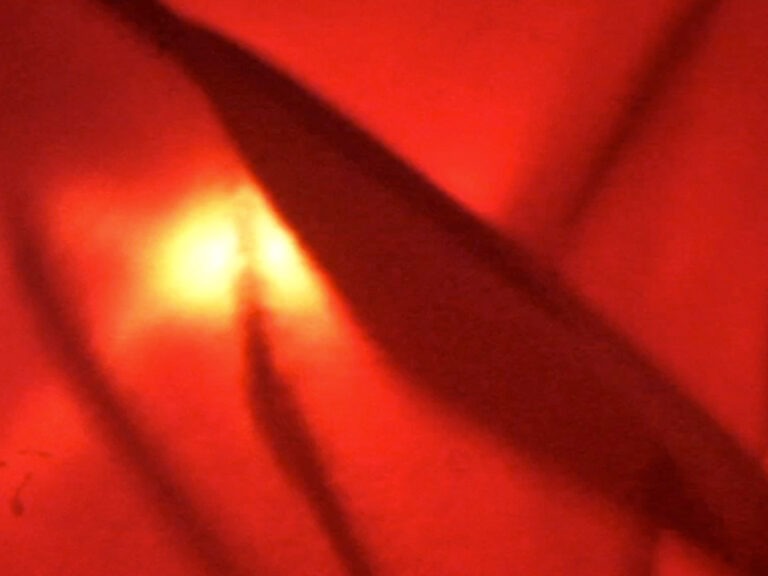 Anna Franceschini, Doposole
In Anna Franceschini's Doposole, the close up of a red flag in constant motion indicates something other than a sign of danger – instead the fabric stands in for the camera shutter, opening and closing on an image of the sun.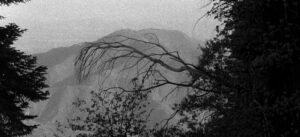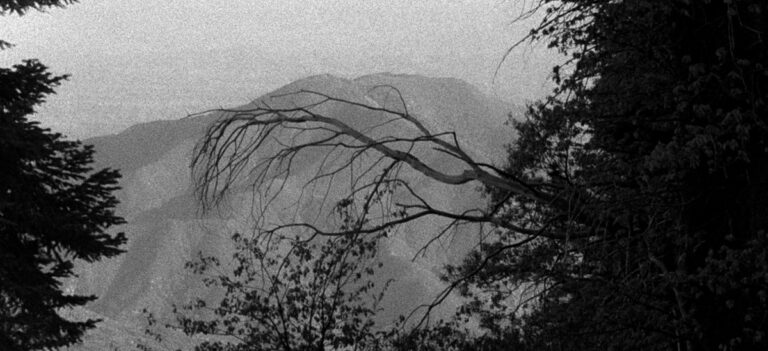 John Skoog, Shadowland
Shadowland is a 15-minute black and white film that moves through rugged Californian locations, which have masqueraded as other parts of the world, from Afghanistan to the French Alps. The films themselves are never named, though a look at the end credits where each location is listed would allow a patient cinephile to puzzle it all out. (Fatema Ahmed)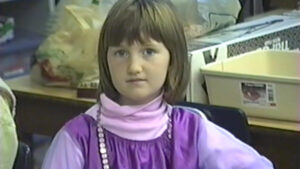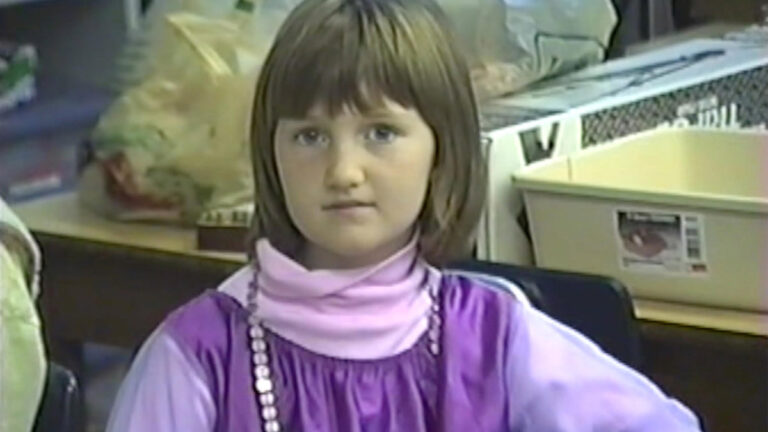 Christin Turner, Vesuvius at Home
A fantastical journey from the filmmaker's childhood re-enactment of "The Fall of Pompeii," through decades and decline, to the Sibyl's Cave, wherein she discovers Vesuvius' symbiosis with cinema, memory, and Giambattista Vico's spiral of time. (notes courtesy of the artist)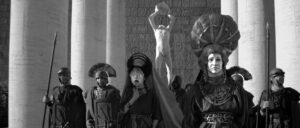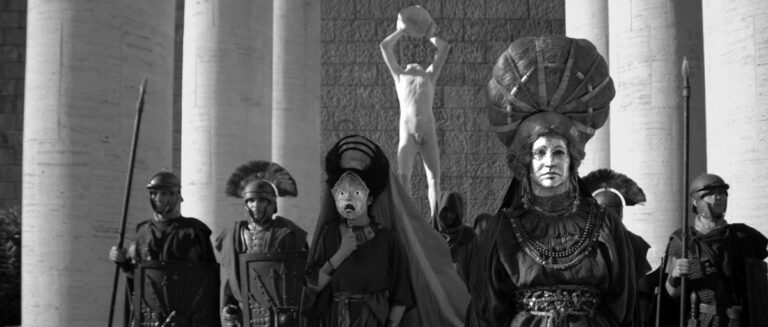 Clemens von Wedemeyer, The Cast: Procession
This film recalls an incident that took place in 1958 in Cinecittà (Rome) during the shooting of the movie Ben Hur, when thousands of extras tried to force the gates and enter the studios demanding work. In the film, a Roman procession scene is being rehearsed on set and a casting is taking place in preparation for shooting when the scene is interrupted by the demonstration outside and the production team calls for intervention by the police. The following actions reveal that Procession is staged by a contemporary crew and the cast of the film is in fact composed of actors and activists from the Teatro Valle Occupato. The Teatro Valle, one of the oldest theatres in Rome, was occupied in 2011 and has since turned into a self-organised cultural centre. The narrator of the film is the eyewitness Mino Argentieri, a critic and cinema historian, who wrote the article about the incident for the newspaper l'Unità on 7 June 1958. In this film von Wedemeyer employs different genres to create a unique visual atmosphere: from documentary essay to theatrical choreography. (notes courtesy of arsenal-berlin.de)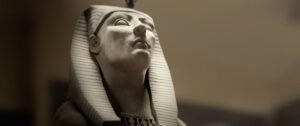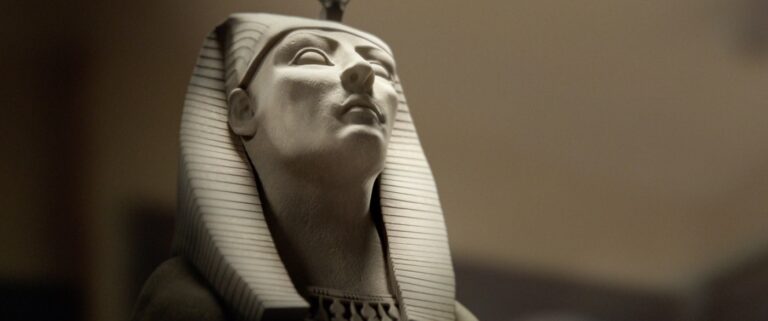 Patrick Hough, And If In A Thousand Years
When the film-set for Cecil B DeMille's The Ten Commandments had had its day, it was, like the biblical civilisation it evoked, lost to the sands of time – in its case, deliberately buried, in an act of money-saving expediency, under the dunes of the Southern California desert where the movie was shot. Over the years, though, those shifting sands have gradually exposed this piece of epic landfill, bringing souvenir hunters to gather where archaeologists (or Egyptologists) used to tread.
In Patrick Hough's video, shot on location at the site, it is not just fake fragments of the past that are disinterred. What hovers over the place is a spirit of uncertainty; one that questions bedrock values like 'originality' and 'authenticity' and dusts them with other layers of meaning: the extraordinary ease of reproducibility, the spray-on glamour of cinematic semi-celebrity. This spirit of uncertainty is encapsulated by the figure of a sphinx – once part of the décor of the majestic film-set, now wandering in ghostly limbo; haunting the nearby town like a wildcat on the prowl. The sphinx's hybrid form and cryptic, enigmatic presence is also a symbol of a blurring between the material and the virtual that Hough's video not only proposes but visibly enacts, using sophisticated digital scanning techniques to suggest the outline of a new technological horizon that is, even as we look back nostalgically at the remnants of earlier eras, writing its own name upon the sand.
And If In A Thousand Years was commissioned for the Jerwood/FVU Awards: Neither One Thing or Another, a collaboration between Jerwood Charitable Foundation and FVU. FVU is supported by Arts Council England. (notes courtesy of the artist)
More programmes on aemi-on-demand